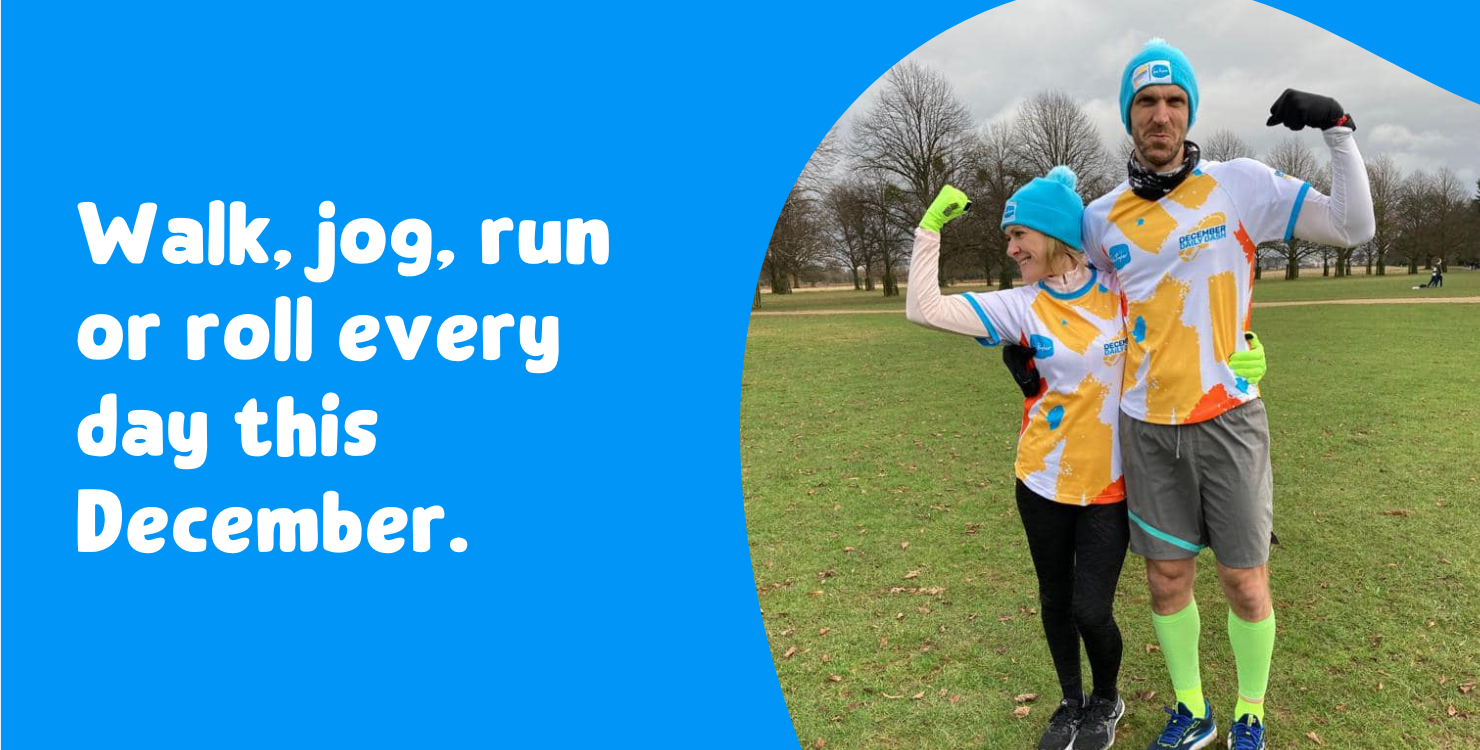 About the December Daily Dash
December Daily Dash – What is it?
The Daily Dash is a challenge to walk, jog, run or roll every day in December. It was founded by Sue Ryder supporters Jackie and Mark after Jackie lost both her parents to cancer in the space of 18 months. The Dash raises much-needed funds to support people through the most difficult times of their lives. Whether that's a terminal illnes or the loss of a loved one – we're there when it matters.
You can sign up using the link at the top of the page, or by clicking here.
Every day, even Christmas Day?
Absolutely – the Christmas Day dash is one of the best as it gets you out of the house and active, and maybe even bumping in to some fellow dashers.
But I've got this thing one day in December? Can I still do it?
One of the defining aspects of the challenge is its daily nature at a time of year when lots is going on. We don't track or police its completion and leave it entirely up to you how you complete it and when. We do suggest that you try and do something every day that challenges you personally and if there is something unavoidable or you don't feel well then please exercise common sense.
How many people do the dash?
In the very first year, 13 people (plus Chester the dog) took on the challenge. The event has grown hugely with over 3,000 people taking part since then. We're really hoping to grow that number even more, so please share with anyone you know who might be interested.
A few years ago saw the coining of a new term – a 'dash mob'. This is where a group of dashers organise to meet up to complete their dash together. The founders try to host one in Berkshire (where they live) on the final day of the dash, but we'd also encourage you to set up your own with those dashing near you. Please only arrange a group Dash if you're certain that it is safe to do so.
I live in the middle of no-where with no-one else dashing near me!
Don't worry! We have a great Facebook and Strava community if you want to connect virtually with other dashers, and of course, we love seeing photos from your runs on our social feeds! This year, we'll be suggesting people use Strava segments to show their favourite local routes – maybe you'll be closer to another Dasher than you think!
No, we want the dash to be inclusive and celebrate the work that Sue Ryder does. That said, the funds the charity does receive are vital and we'd love to add to the £600k that the Dash has raised for Sue Ryder to date. A lot of people decide to contribute themselves instead of fundraising, but we'd love it if you did publicise the event to let your family and friends know what you have achieved and how they can sponsor you. The Daily Dash is a fun challenge that we think is highly worthy of sponsorship and donations. Your support will help Sue Ryder be there for people when it really matters.
You can update the fundraising page created when you register by signing in to JustGiving here.
Can I raise money for other charities?
There are loads of amazing causes out there but Sue Ryder is very close to the hearts of the founders Jackie and Mark, and is the reason for the Dash existing in the first place. We hope that the more people who take part, the bigger the impact will be to support Sue Ryder.
What about setting up our own team?
Absolutely, we did this last year and it was a great way for individuals and groups of friends and colleagues to share their own stories to raise funds. You can either create a team at the point of signing up, or alternatively, please use the advice on JustGiving on how to convert the page created when you register into a team page.
How do I claim my free Beanie?
Everyone who registers will be automatically sent a free Beanie while stocks last and subject to terms and conditions.
Terms and Conditions:
1.       Register for the December Daily Dash for free to receive your free beanie hat
2.       Beanies are subject to availability and while stocks last
3.       Each person who registers may only receive one free beanie regardless of how many times they register
4.       The promotion is only open to residents in the UK aged 16 and over
5.       The beanie is not negotiable or transferable. It cannot be exchanged for another gift.
Sounds epic, how do I sign up?
You can sign up using the button at the top of the page, or sign up here. This helps us send you and other participants all the useful hints and tips to prepare, keep you up to date with Dash news, and of course create the legendary 'dash map' of where we have participants taking part.
Of course. The dash is undertaken entirely at your own risk; Sue Ryder can't have insurance for an event of this nature. We care about your safety and so please be considerate of any health conditions and your surroundings when out dashing. Apart from that we just hope that you enjoy the dash and look forward to seeing your pictures (or video!) and fundraising efforts.
How will taking part help?
Sue Ryder supports people through the most difficult times of their lives. Whether that's a terminal illness or the loss of a loved one – they're there when it matters. Their doctors, nurses and carers give people the compassion and expert care they need to help them live the best life they possibly can.
Your participation means that they can provide more care for more people to be there when it really matters, taking the time to understand what's important to them and give them choice and control over their care.